The GlycoSpot Platform
GlycoSpot provides complete test kits for α-, β-amylase and DP with an easy step-by-step protocol that allows you to perform accurate quality control faster than ever. We call it the GlycoSpot Platform and it consists of four elements:
SIRIUS Spectrophotometer, GlycoSpot App, Cloud Database & Test kit.
SIRIUS Spectrophotometer
We have spent years developing a spectrophotometer that fits any environment and situation; thus SIRIUS was born and is now the core of the GlycoSpot Platform.
Wireless
Portable
Fast
Application-Specific
Always Up-to-date and calibrated
Fits in your pocket
The GlycoSpot App
We have created apps that support our ideology of simplicity. They are application-specific and are available on both Google Play and App Store.
Fully integrated system
Saves results automatically
International recognized units
Sample ID
Dedicated Support
Fast results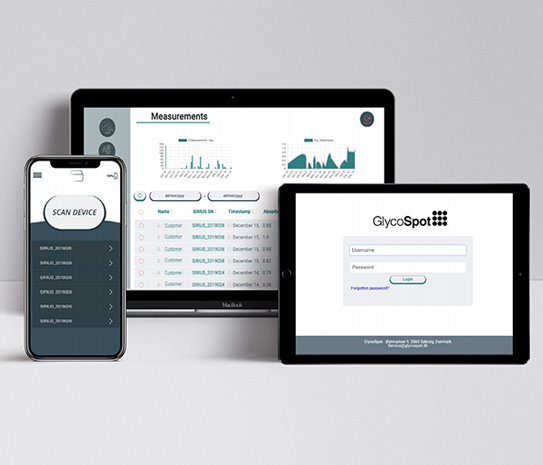 GlycoSpot Cloud Database
The GlycoSpot Cloud Database automatically stores all measurements and is easily accessible with personalized logins.
Track raw data
Time stamp
Location
LIMS system integration
Data lakes
Reduces waste of lost data
Test Kits
Quantifying enzymatic activity does not have to be complicated and time consuming. We have developed simple, yet highly reliable test kits.
Specialized substrates with integrated color
Premeasured chemicals
Easy step-by-step protocol
Simple and reliable
No lab training required
Application-specific
Join the GlycoSpot Club!
See what some our customers have to say!
Small, compact and easy to use
We are very happy with the short overall analysis time for standard malts, and there is no extended extraction process required, unlike current ASBC method. Ready to use straight out of the box, no extra chemicals or reagents are required to be made up, hence fewer risks posed to staff members through handling of hazardous chemicals. Results are very comparable to our current method.
Roland Fleming
Laboratory Supervisor - Simpsons Malt - Great Britain
Rapid and precise!
The values obtained by using the GlycoSpot method were in the range of ±5 WK, which is better than the repeatability r95, as given by ANALYTICA EBC.
We have decided to use this method in our routine laboratory. As the method is easy to handle, rapid and precise, we will replace the existing method and will also enhance the frequency of analytical checks.
Winfried Manke
Quality Director - Avangard Malz - Germany
Testing more than ever!
Durst Malz was founded in 1824 in Heidelsheim near Bruchsal. Today Durst Malz, with its 3 locations in Germany, has an annual capacity of 200.000 tons of malt. We produce many types of malt for breweries in Germany and the whole world. Our aim is to produce malt with the highest quality. For the diastatic power we used the traditional malt test methods but after trialing the SIRIUS and the GlycoSpot platform, we are happy. The ease of use and simplicity behind the method is unmatched. The GlycoSpot method saves time and we can test more in the same time. Now Durst Malz is using GlycoSpot´s test method for barley malt, beta amylase, as the main method and we have fully integrated it in our process. The repeatability is very good and we recommend the GlycoSpot method 100%!
Markus Weiss
Head of Laboratory - Durst Malz - Germany
GET STARTED
WITH A 14-DAY TRIAL!
Transform the way you work with enzymes!
Free 14-day trial!